The Countdown to Christ's Return, Part 1
Bible prophecy is being fulfilled before our eyes!

Jewish people of all ages are receiving our Lord Jesus Christ into their hearts!

As the time draws near for Christ's return, the need for world evangelism grows and accelerates.
Everywhere we look today, people are quite concerned about the future. Recent news of the coronavirus pandemic, geopolitical events, economic worries, and growing fears are influencing many people to seek out forecasters or psychics that sell their "insight" to give some sort of direction. Others simply ignore the signs of the times.
As believers, you and I have a glorious hope that no matter what is happening around us, we can look toward both today and tomorrow with expectation and excitement.  There are more than 1,400 passages of Scripture—300 in the New Testament alone—devoted to Christ's return. But not too many people talk about it much anymore.
In 46 years of ministry, I've spoken often about the end times and signs of the Second Coming of Jesus Christ. Today, God is showing me that it's time to remind believers of what God has commissioned us to do as the sands of time run out on the prophetic hourglass!
So much is happening today that points to the soon coming of our Lord Jesus. The signs of the time are everywhere.
Let me hasten to say that my fascination with political events and how they fit with prophecy is no recent inclination. Growing up in the home of Constandi and Clemence Hinn in our Israeli seacoast town of Joppa, meant that our family was very aware of what was happening in Israel and the world. My father worked closely with the government of Israel before our family moved to Toronto, so it was common for prime ministers, military leaders, and political officials to stop by our home. Many stayed for dinner, especially since they enjoyed my mother's cooking. Sometimes, the meals were marked by laughter, others by hushed secretive tones, especially just before our family left Israel during 1968.
What I learned then is still very applicable to what's happening all around us in 2020. Then, as now, it's like putting together a puzzle with the Bible in one hand and newspapers in the other (which would certainly include keeping an eye on instantaneous, ever-present television and internet reports).
What does this mean for you and me today, 52 years after leaving my childhood home, especially in the troublesome times we face today?
I can tell you without reservation that God has placed an urgency in my heart to warn believers of the times and seasons—now, more than ever!
And He wants you to know that we have a glorious future, no matter what happens!
Five Things That Must Happen Before Jesus Christ Returns
The Bible offers many monumental signs that point to the end times and Christ's Second Coming. I want to focus on five of the most crucial that must occur before the coming of the Lord. As you read and study these signs, you must remember that four of these have already been revealed, some more fully than others.
1: Restoration of the State of Israel and "The Fig Tree Generation"
The Bible recognizes this restoration as the first event that must take place before the coming of the Lord: "For I will bring them back into their land which I gave to their fathers" (Jeremiah 16:15, NKJV).
The state of Israel was restored when at midnight, May 14, 1948, the Provisional Government of Israel declared its independence and proclaimed a new State of Israel. This prophecy is ongoing and is still being fulfilled today as more and more Jewish people from nations around the world return to their homeland each year.
At the time Jesus was telling this parable, the nation of Israel had been scattered for 2,000 years. During those two centuries, the Jewish people retained their native tongue, even though they did not live in their land (prophesied in Jeremiah 31:23). With the restoration of Israel came the restoration of a people that were nearly wiped off the face of the earth. What has happened since Israel's statehood is nothing short of miraculous!
Isaiah prophesied: "The wilderness and the dry land shall be glad; the desert shall rejoice and blossom like the crocus; it shall blossom abundantly and rejoice with joy and singing." (Isaiah 35:1-2, ESVUK). Before 1948, the land of Israel was practically nothing but desert and desolation, yet every time I return to Israel today, I am amazed at the abundance of palms, banana trees, and flowers growing profusely throughout the region. The desert is blossoming, even as the impact of this renewed nation spreads!
In fact, if you look closely at Matthew 24:3 you see that the followers of the Lord wanted to know the sign—singular—of Christ's return and the end of the age. Jesus answered with a lengthy list of what they should be looking for, including false prophets, wars, famines, earthquakes, the Gospel being preached to the nations, and much more. Many of these events began to unfold immediately after Christ ascended back to the Father. Many more continue happening today.
But what was the one "sign" that would be unmistakable? As Jesus often did, He answered their pointed, momentous question by telling a simple story:
Now learn this parable from the fig tree: When its branch has already become tender and puts forth leaves, you know that summer is near. So you also, when you see all these things, know that it is near—at the doors! Assuredly, I say to you, this generation will by no means pass away till all these things take place. (Matthew 24:32-34, NKJV)
The fig tree in this story is Israel, which tells us that one of the foremost signs of the Second Coming is the restoration of Israel, which God did in 1948. What God has done through the modern creation of the nation of Israel is nothing short of a miracle and the fulfillment of Bible prophecy. And the most significant aspect of this prophetic parable is what would happen when the leaves of the fig tree would begin to blossom again.
One sign! One generation! On God's timetable, a generation is 100 years (Genesis 15:13,16). But what are the far-reaching ramifications for us living in 2020 as the fig tree blossoms become more consequential with each passing day?
Even as you read these words, Jewish believers are preaching the Gospel of Jesus Christ on the streets of Jerusalem and throughout Israel! Rabbis are sharing the message of the Messiah to the young and old right beside the Wailing Wall!
This is taking place in Israel—not in New York, Moscow, São Paulo, London, Seoul, or Dubai, but in the Holy Land! Jews are witnessing to their own people and in their own language, one preserved despite persecution and dispersion.
And Jewish people of all ages are receiving our Lord Jesus Christ into their hearts!
This hasn't happened in two millennia, yet it was prophesied in Scripture and is taking place right now, fulfilling Matthew 10:23.
Even casual students of prophecy are realizing that these are the most amazing hours in which we are living!
What is all of this telling us? Jesus is coming! Jesus is coming! Jesus is coming!
Whatever happens in Israel affects the world. We cannot unravel or understand what is taking place in the Middle East or on the world scene without recognizing the central point of God's time clock—Israel.
2: Rise of Russia
According to my understanding of Scripture, the area now known as Russia is mentioned significantly in prophecy. Ezekiel 37 talks about the restoration of Israel, and then the prophecy that Russia will one day be as powerful as it once was and that it will seek to invade Israel (Ezekiel 38:14-16) because of their jealousy of Israel, the blossoming "Fig Tree."
One passage in Ezekiel 38:1-4, which speaks of Gog (the man), Magog (his land), and Meshech (the ancient name of Moscow). The area represents present-day Russia. Ezekiel prophesies that this country and its allies will attempt an incursion, but God will turn them back so that all the world will see that "I am the Lord" (Ezekiel 38:23).
I believe that this incursion attempt will not happen until Israel is largely at peace with its neighbors, and the result of the region's peace will be incredible prosperity.
3: Europe and the Anti-Christ
The third thing prophesized to happen before the coming of the Lord is the rise of a new superpower. Daniel 7 describes what many students of biblical prophecy believe that will lead to the Roman Empire (once a European kingdom) being reborn into a major confederacy.
The alliance will have awesome, far-reaching authority over the world that will lead to a powerful individual, the antichrist, who will come out of this renewed empire (Daniel 8:23-24).
4: Explosion of Knowledge
Daniel the prophet foretold "the time of the end" when "many shall run to and fro" and "knowledge shall increase" (Daniel 12:4, NKJV). Imagine what the prophet saw in his vision of the future where automobiles, supersonic jets, and even space flights are common!
In the early 1900s, human knowledge was doubling every 100 years. At the end of World War II in 1945, it was doubling every 25 years. Today, human knowledge is doubling every 12 hours. We are surrounded by artificial intelligence (AI), leading many futurists to point to the time at which technological growth becomes uncontrollable and irreversible, resulting in unforeseeable changes to human civilization.
5: Greatest Revival in World History
I don't believe in a "doom-and-gloom" Gospel. We can read the end of the Book, and we know the victory that is coming—which is the fifth major thing that will happen before the return of Jesus Christ.
It was no mere coincidence that when Israel was revived as a nation in 1948, God's hand began moving as well upon the Christian church worldwide in a powerful new outpouring, and according to what I see in Scripture, a mighty spiritual outpouring is coming. We are going to see the greatest revival since Pentecost. Joel 2 speaks of these times, and Acts 3:19-21 clearly talks about this incredible event. 
The greatest prophetic sign of our wonderful Lord's imminent return will be an unparalleled outpouring of the Holy Spirit's revival fires upon the world. Isaiah described these days: "Arise, shine; for your light has come! And the glory of the Lord is risen upon you" (Isaiah 60:1, NKJV).
We are already seeing this happen before our eyes! God is opening doors that we never dreamed possible. And as the time of His return approaches, the cry of heaven for souls and the impact for coming generations for Christ continues to intensify.
We are told, "Arise, shine; For your light has come! And the glory of the LORD is risen upon you." (Isaiah 60:1, NKJV).
Bible prophecy is being fulfilled before our eyes! The Word instructs us, "lift up your eyes and look at the fields, for they are already white for harvest!" (John 4:35, NKJV).
Now is the time for accelerated global evangelism! Jesus said, "Occupy till I come" (Luke 19:13). As the time of Christ's return draws near, the need to proclaim the Gospel grows more urgent day by day. We dare not pull back or slow down because our time is short.
As the time draws near for Christ's return, the need for world evangelism grows and accelerates.
A great harvest is coming for those who are faithful, and only the faithful will be trusted with this massive outpouring.
God has called us to be faithful laborers in the work of the Lord:
A faithful man will abound with blessings. (Proverbs 28:20, NKJV)
The harvest truly is great, but the laborers are few; therefore pray the Lord of the harvest to send out laborers into His harvest. (Luke 10:2, NKJV)
Will you be one of the faithful who makes the most of the harvest opportunities in front of us? Will you be one of the covenant believers who truly arises and abounds?
But how do you demonstrate your faithfulness?
You do so by showing God that He can trust you to be a giver.
When you give the Lord your life, you say I trust you with my soul. If you are sick, you trust God with your body and give it to Him.
Abundance works the same way. When you trust Him with your finances, you can be assured that you will never lack, no matter what happens in the future.
Whatever your need is right now, the answer is in your covenant seed. Make the divine connection between your need and your seed, then get ready to move into God's divine overflow!
And we need to get ready for a wealth transfer that will bless believers beyond imagination, to finance the last great worldwide move of God!
We must act now, even more urgently, as the day of the Lord approaches.
In a world filled with the constant barrage of news reports about coronavirus pandemic, geopolitical events, economic worries, and growing fears, we must stand tall and speak with an unwavering voice.
We must go to the nations to proclaim the Gospel through all means possible. We must allow the glory of the Lord to touch and transform lives as the time of Christ's return approaches.
And what we do for Him, we must do quickly.
I encourage you today to sow a significant seed-gift into the fertile soil of this worldwide ministry, especially as we continue our Zoom Healing Services and move forward as a growing and mighty army more determined than ever to fulfill our Lord's Great Commission during this prophetic hour.
The Bible tells us, "He who testifies to these things says, 'Surely I am coming quickly.' Amen. Even so, come, Lord Jesus!" (Revelation 22:20, NKJV).
Now is the time for accelerated global evangelism!
As the unprecedented wave of evangelism begins to sweep the earth, we must be on the front line with our prayers, our participation, and our seed. God Himself rewards those who give to win the lost, and with the greatest wealth transfer on its way, you must be in line and ready to give and receive in ways you've never imagined!
Oh, dear partner, my heart cries out for those precious souls just waiting to hear the news that Jesus loves them and can heal their body and soul: "For whosoever shall call upon the name of the Lord shall be saved" (Romans 10:13).
Will you be one of those who stand with me?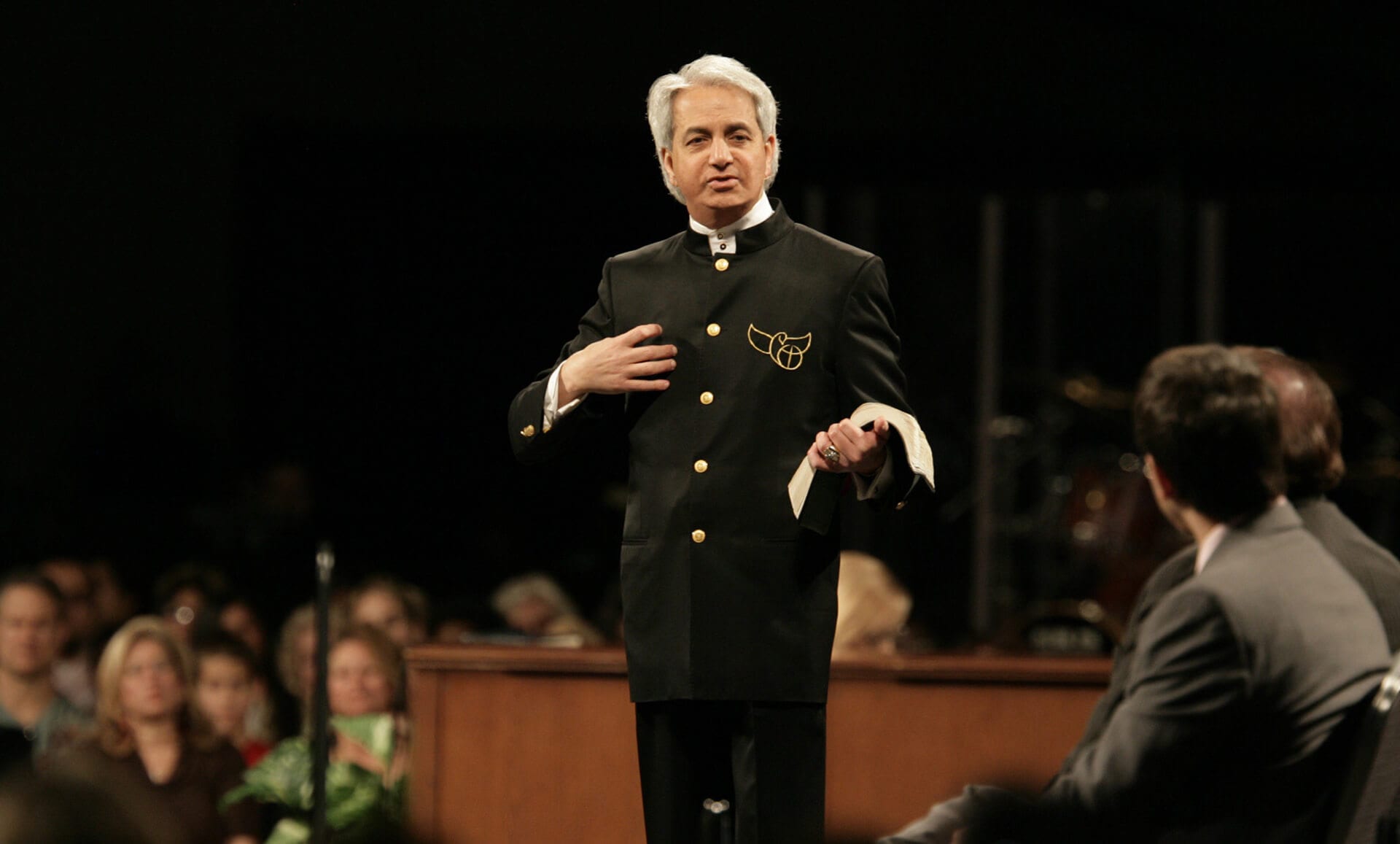 The familiar "How Great Thou Art" refrain, "When Christ shall come with shout of acclamation" is closer than any of us realize. Jesus is coming!
As the hour of Christ's return draws near, the need to proclaim the Gospel grows more urgent day by day. We dare not pull back or slow down because our time is short.
When you sow seed for the Gospel, heaven takes unique notice and puts you in line for a mighty harvest, as we will see an unprecedented ingathering of souls before our Lord's second coming. And, together, you and I are on the very front line!
Restless to see souls come to Jesus!

Watch next week for "When Christ Shall Come, Part 2." I can't wait to share a very specific word about the coming days, a word that could have eternal consequences!
Despite what is happening in today's uncertain world, God desires to move believers into a new season of faith, favor, and abundance so we can move into a new dimension of equipping and evangelism as we seek to "Go into all the world and proclaim the gospel to the whole creation" (Mark 16:15, ESV). Together, we can truly impact this generation for Christ. Will you be one of the covenant believers who truly arises and abound during the coming days? Make HIS priorities YOUR priorities as you send your most generous gift today, knowing that your seed-gift is being planted into the fertile soil of this worldwide ministry, then get ready for a divine season of God's blessings!