God is moving mightily among us!

The glory of God will increase more and more during the coming year.

We must tell lost souls around the world that Jesus, the Son of God, is the ONLY way, the ONLY truth, and the ONLY life!
During these past weeks, I have spent time praying, not only for direction and guidance for this ministry but also for you, my precious partner. The coming days will be extraordinary for believers, no matter what the circumstances may be.
Who could have imagined that we would go through all the challenges of the past twelve months? Yet as we get ready to move into 2021, I want to let you know that God is moving mightily among us! He is preparing us for a time of ushering in the great ingathering and eternal fruits.
We live in historic days, and the time has never been more right for stepping out in faith, staking your claim in God's supernatural economy, and for reaching lost souls with the Gospel of Jesus Christ!
Along with roller-coaster economic challenges and the COVID-19 pandemic, with God's help, we've weathered blow after blow. Now, with breakthroughs and vaccines, we are helping to beat back these staggering attacks that have affected so many — spiritually, emotionally, physically, and financially.
To God be the glory for restoration and for the great things He brings to pass!
God has moved mightily through your prayers, encouragement, and seed-gifts. You have been a special part of everything that has been done through all the outreaches of this ministry, including our Online Healing Services, the establishment of Benny Hinn Institute, and the remarkable success of Compassion for the Hungry.
We recently celebrated the 46th anniversary of this ministry, and even as I've been reflecting on what has been done during the past decades, I have also been intensely aware that God is showing how everything to this point is a foretaste of what is to come!
God is doing new work. We are moving into a year of restoration and unprecedented wealth transfer. He is pouring out miracles, bringing salvation to all who will come to Him, and is bringing abundance to believers as we've never seen before.
You and I have seen glorious days in the past, yet I can tell you without a shadow of a doubt that nothing can compare to the glory of the days we are living in right now. God has revealed to me that we will see mighty miracles, even in the streets and sidewalks, lost loved ones will be saved, and the greatest wealth transfer will happen—not for greed, but for the spread of the Gospel!
And I know the glory of God will increase more and more during the coming year as we continue proclaiming the Gospel of Jesus Christ, our precious Redeemer, through every means possible!
Yes, indeed, the situation on earth has never been more dangerous and our time has never been more limited, but God is in control of our world and our destiny.
Therefore, we must get the Gospel out with all speed and intensity:
We must tell lost and frightened humanity that there is hope, and His name is Jesus Christ, the Son of God!
We must tell lost and bound humanity that there is a way out, and His name is Jesus!
We must tell everyone that there is only one door through which they can enter and find peace of mind, peace of soul, and safety, and His name is Jesus!
Souls are crying out for the true Gospel of Jesus Christ, the Gospel of salvation, the Gospel of deliverance, the Gospel of peace.
The world is crying out for the peace that "passes all understanding" (Philippians 4:7), and the only way they can find that peace is through the Prince of Peace, Jesus Christ, the Son of the Almighty God, who said, "I am the way, the truth, and the life: no man cometh unto the Father, but by Me" (John 14:6).
This is the message the world wants to hear, and this is the message they must hear. And this is the message we must preach!
We must tell lost souls around the world that Jesus, the Son of God, is the ONLY way, the ONLY truth, and the ONLY life!
Our World Is Looking for Answers
Oh, beloved of God, the world is ready to hear the Gospel. They are looking for the truth of the Gospel. In fact, they are desperate for it.
The time is now! We cannot delay. The dangers in this world have never been so great, and our time has never been so short.
We must preach the Gospel now with fervency, speed, and intensity.
We must accelerate all of our efforts.
The door is open now as we move into 2021. Tomorrow may be too late!
Even as we celebrate the New Year during the coming hours, we must be aware that so many souls around the world will be facing eternity during the coming 12 months.
May God give each of us a burden for the lost and needy!
My Commitment to the Lord and You
I made a commitment to the Lord that I will preach the Gospel; that I will go to the nations of the world through every means available; that I will tell them that Jesus Christ is the way, the truth, and the life; that no man can find the Father but by Him.
I have made this commitment, and I will never break it, never turn back from it! I will preach the Gospel of Jesus Christ as long as God gives me breath.
And I pray that God will continue to speak to your heart to do all you can to take the Gospel of Jesus Christ to the world.
Remember, the Bible asks:
How then shall they call on him in whom they have not believed? And how shall they believe in him of whom they have not heard? And how shall they hear without a preacher? And how shall they preach, except they be sent? as it is written, How beautiful are the feet of them that preach the gospel of peace, and bring glad tidings of good things! (Romans 10:14-15)
Your Commitment During the Next Few Hours
What better time than now, during the final hours of 2020, to make your generous tax-deductible gift while planting a seed into a ministry with a proven, seasoned commitment of over 46 years of reaching the world with the life-changing, miracle-working Gospel of Jesus Christ?
There are many tax benefits for giving during the last days of 2020, especially since many economists and political insiders believe the tax laws could change, perhaps dramatically, during 2021. Your gift today may offer a much larger benefit than in the future.
Finances and taxes can be very specific and should always be approached with consideration of the latest tax laws and rules. With that in mind, if the numbers show that you're better off taking the standard deduction, you may want to consider a "bunching" strategy—that is, timing your gifts to shift more donations into a single tax year. By consolidating your giving in this way, you may be able to donate and still claim a tax break. Check with your tax professional concerning your best route to take for your gifts this year.
Even as 2021 is coming to a close, there is still time to impact people around the world, even as you save on this year's taxes.
Your tax-deductible gift will help take the life-saving and miracle-working message of the Gospel to people around the globe through Zoom Miracle and in-person services, social media webcasts, and our many mission outreaches.
Plus, your charitable contributions go a lot further than just personal faith or fulfillment. It also provides a real sense of being part of something much larger than yourself. As you give, you join a group of like-minded and similarly-inspired believers who see a need that needs to be filled and have enough belief and encouragement to show that support through each gift.
Simply put, you are giving today toward an eternal harvest since your seed-gift can mean the difference for all eternity in so many lives!
The destiny of so many souls around the world hangs in the balance. What you and I do together can help those souls to find Jesus Christ as Lord and Savior!
As we finish 2020 strong and move into 2021, will you sow a precious and generous financial seed during the final hours of the year, so multitudes can hear the Gospel of Jesus Christ?
Even as the world sinks deeper and deeper into danger and darkness, your tax-deductible gifts bring hope to the hopeless.
And will you commit to praying for this ministry as we look toward a historic year of winning the lost for our Lord Jesus Christ? Help me lift up God's work during 2021.
Your Blessing During the Coming Days, Weeks, and Months
As you give your tax-deductible seed now—so it will be counted during the final days of 2021—remember also our Father's glorious promises to you:
Give, and it will be given to you: good measure, pressed down, shaken together, and running over will be put into your bosom. For with the same measure that you use, it will be measured back to you. (Luke 6:38, NKJV)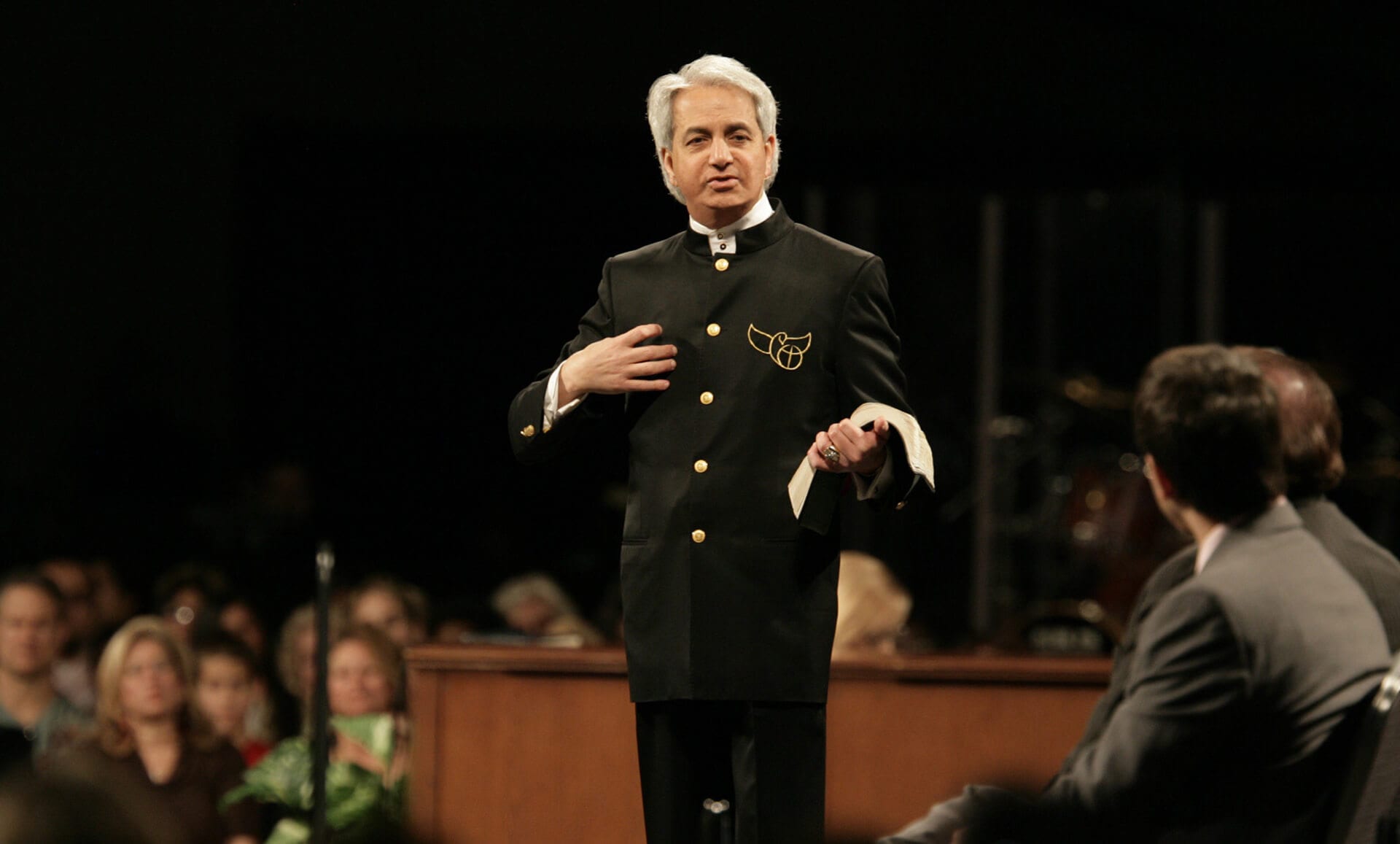 Now may He who supplies seed to the sower, and bread for food, supply and multiply the seed you have sown and increase the fruits of your righteousness, while you are enriched in everything for all liberality, which causes thanksgiving through us to God. (2 Corinthians 9:10-11, KJV)
I pray that you will be blessed beyond your imagination and enriched in everything to all bountifulness, in the mighty name of Jesus, during the coming days.
I eagerly await hearing from you. And as you send your year-end gift, be sure to send your prayer requests as I continue to fast and pray for you!
For the mighty name of our Lord, Jesus Christ,

Will you help Pastor Benny finish this year powerfully with your tax-deductible, year-end gift? There has never been a more urgent or prophetic time than now to plant your seed to help take the message of salvation and grace to the nations! May God bless you richly as you plant your seed into the fertile soil of this worldwide ministry as we finish 2020 strong and move into 2021!